Nothing seems more inviting than a cottage home tucked away in the mountains of Western North Carolina. However, your easy mountain lifestyle doesn't have to mean driving 30 minutes to run errands. The Village and The Hamlet are peacefully situated beside Dunn Creek and cradled by the Blue Ridge Mountains. These North Carolina communities are also located just 5 miles from historic downtown Hendersonville, 20 minutes from the Asheville airport, and 30 minutes from downtown Asheville.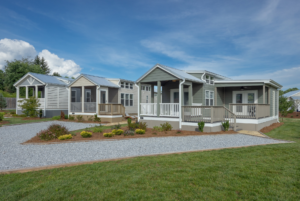 Simple Life's Western North Carolina communities offer a collection of cozy cottages easy to maintain and surrounded by amenities with natural privacy and convenience. Check out the list below to see some of the services located in the immediate area surrounding Simple Life Communities in Hendersonville. We invite you to check out our interactive surrounding area map for a more precise location of each service.
Grocery
Ingles Market (2.6 miles)
Just 8 minutes from your Hamlet front door, you can find Ingles. It is a great supermarket option that offers in-store shopping, curbside pickup, and even delivery. Not only does Ingles offer a great selection groceries (including foreign foods and healthy choices of all sorts), but this location also has a Starbucks kiosk inside!
Dollar General (2.6 miles)
If you're looking for a quick and easy errand run, Dollar General is the perfect choice. It's close by, inexpensive, and stocks just enough variety of products to get you through until grocery day.


Publix Supermarket (4.8 miles)
This well-known southeast supermarket chain offers a wide selection of groceries, plus a deli featuring Boars Heads® meats and a robust bakery department. In addition to in-store shopping, this Publix offers curbside pickup, no-contact delivery, and in-store pickup.
Walmart Supercenter  (5.9 miles)
Is there anything you can't get from Walmart? From groceries to automotive parts and almost everything in between, this retail giant is perfect for finding whatever you need. Open from 7am until 11pm, Walmart offers curbside pickup and delivery.
Home Goods


Blue Ridge Bargains (1.5 miles)
This online retailer owns and operates a brick-and-mortar store in Flat Rock, offering local in-store shopping, pick-up, and shipping anywhere in the U.S. The unique thing about Blue Ridge Bargains is that they purchase products from Amazon, Bed Bath & Beyond, and more in bulk, selling products to consumers at a discounted rate of 30%-90% off.
Bloomfield's of Flat Rock (1.6 miles)
From garden planters to kitchen gadgets of every kind, Bloomfield's is a unique local gem that operates a two-story barn and and outdoor market for all your houseware needs.
Blue Ridge Mall (5.3 miles)
Anchored by Belk and TJ Maxx, Blue Ridge is an indoor shopping complex home to 19 retailers across different categories, including health & beauty, electronics, apparel, and more.
Local Dinning
Flat Rock Wood Room (4.2 miles)
North Carolina is known for its delicious barbeque, and the Wood Room is no exception. Serving award-winning BBQ as well as wood-fired pizza, they truly offer something for the whole family!


Hubba Hubba Smokehouse (4.5 miles)
This local favorite offers wood-fired pit BBQ & other Southern comfort fares in the shady backyard of a country house. If you don't know what to eat, just try the "Indecision Plate" – comes with pork, brisket, two sides, and a choice of bread.
Flat Rock Village Bakery (4.5 miles)
A wonderful breakfast and lunch spot, Flat Rock Village Bakery makes everything from scratch daily – from breakfast pastries to sandwiches and wood-fired pizzas.
Never Blue (5.0 miles)
This artsy downtown restaurant serves dishes from all over the world, from tapas to tacos. With a fun, casual atmosphere, you're sure to enjoy the dining experience at this quirky establishment!


Brandy's On Main (5.0 miles)
Serving only the best aged beef, fresh vegetables, and the freshest seafood, Brandy's always puts an emphasis on using local farmers when possible. All of their soups, sauces, dressings and desserts are made in-house.
Poe House (5.1 miles)
Named in honor of author Edgar Allan Poe, The Poe House is a mix between an English Pub and a trendy wine bar with quite a few craft sodas in between and live music.
Renzo's Ristorante (5.2 miles)
Renzo's offers authentic Italian cuisine with fresh ingredients and a lot of style. The restaurant also offers private rooms and semi-private dining areas to accommodate small and large groups of up to 48 people.
Local Attractions
Flat Rock Playhouse (4.2 miles)
For more than 70 years, Flat Rock Playhouse has produced musicals, comedies, and dramas, bringing high-quality theatre in an intimate environment to Western North Carolina.


The Carl Sandburg Home (5.1 miles) 
Enjoy an easy hike around the historical home of famous poet and three-time Pulitzer Prize winner Carl Sandburg. There are over 5 miles of walking trails through gardens and past the whimsical goat barn on site.
Downtown Hendersonville (5.3 miles)
Full of locally owned shops, cafes, boutiques, galleries, and restaurants, Downtown Hendersonville is one of the Blue Ridge Mountain's most popular Main Street destinations.
Jump Off Rock (9.6 miles)
Atop a 3,100 foot summit, a scenic overlook of the surrounding mountains is quite a popular spot for the locals. Bring a blanket to settle down and watch the sunset, enjoy a picnic, or strap on your tennis shoes for a beautiful hike you won't soon forget!
Healthcare And Pharmacies
FastMed Urgent Care (4.2 miles)
Whether you have a tickle in your throat or suffered a wasp sting, FastMed gets you in and out with proper care in no time. They offer healthcare with no appointment necessary and accept most forms of health insurance.


CVS (2.6 miles) and Walgreens (4.6 miles)
Walgreens and CVS are a must for pharmacy, health & wellness, and photo products. Known nationwide, these pharmacy chains are great for refilling prescriptions in-person and online, ordering items for delivery or store pickup, catching up on vaccinations, and more.
Pardee UNC Healthcare
Pardee Urgent Care (5.1 miles)
Similar to FastMed, Pardee Urgent Care is a good choice for minor injuries and illness. This is only one aspect of Pardee UNC Healthcare in Flat Rock.
Pardee Hospital (6.6 miles) 
Home to a number of nationally recognized programs, Pardee's compassionate, highly trained physicians and team are available around the clock. Whether you need surgery, chemotherapy, emergency care, a health screening, or someone to call when you are ill, Pardee is there for you.
Pet Care
Western Carolina Regional Animal Hospital & Veterinary Emergency Hospital (2.6 miles)
Just a few minutes from The Hamlet, Western Carolina Regional provides around-the-clock urgent and emergency veterinary care as well as a full range of preventive and healthcare services for cats and dogs in the Flat Rock and Hendersonville areas.


Hendersonville Pet Shop (3.4 miles)
This local pet store is your one-stop-shop for pet supplies and grooming. As a bonus, Hendersonville Pet Shops services a wide variety of animals. But beware – there are adorable puppies and kittens available for adoption!
Dog in Suds (4.9 miles)
Whether you need a pet groomer or a doggy daycare, Dog in Suds is a local pet care shop that you can be sure will treat your furry friends like family. They even offer a separate daycare service for smaller and older dogs to ensure their safety and relaxation.
Transportation
UBER and Lyft 
Rideshare has come to Flat Rock and both Uber and Lyft are options for cross-town and inter-city transportation.
Interstate 26 
I-26 is a nominally east–west main route of the Interstate Highway System in the Southeastern United States. I-26 runs from the junction of U.S. Route 11W and US 23 in Kingsport, Tennessee, generally southeastward to US 17 in Charleston, South Carolina. Follow it out of Flat Rock to the I-40 junction to get into downtown Asheville.


Asheville Regional Airport 
A Class C airport just 20 minute's drive from Simple Life Communities. The Asheville regional airport offers 60+ daily flights to 22 nonstop destinations on Allegiant, American, Delta, and United airlines.
Greenville-Spartanburg International Airport
Greenville–Spartanburg International Airport is near Greer, South Carolina, midway between Greenville and Spartanburg, about 45 minutes' drive from Simple Life Communities. On average, GSP offers 100 total daily flights, easy parking, shorter lines and competitive fares.
The Flat Rock/Hendersonville area may be most well-known for its proximity to the mountains and all there is to explore in its peaks and valleys. It is also home to some of the fastest-growing cottage home communities, including Simple Life.


With proximity to dining, the arts, shopping, and even top-notch healthcare, The Hamlet is poised to be your new home where you can live and explore happily ever after. Contact us to schedule a visit!