The Zion Cottage is one of our most loved tiny home for sale at The Hamlet, and for good reason! It is versatile, and available in four different layout options. This home has become a favorite because of its ability to be customized to meet your needs. If you need an extra bedroom, or a half bath, you got it! Below we will break down the features of the Zion Cottage.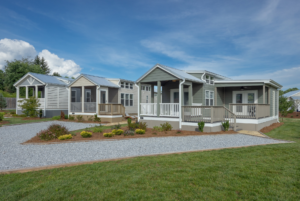 The Hamlet By Simple Life
Before jumping into this model, let's discuss the community. At The Hamlet, we offer a unique way of living. It is a true tiny home community. At The Hamlet you have just what you need. By releasing unnecessary belongings, you free up your wallet and your time for more life experiences.


We chose Flat Rock for our first two North Carolina Communities for its proximity to cities, attractions, dining and entertainment in North Carolina. As a resident, each day is filled with opportunities to explore the local areas. Asheville is a great example, many people travel to visit the city each year. Not only are there a great number local utilities, but there are also exclusive amenities within the gates of The Hamlet.
Simple Life Lifestyle Value
Lifestyle is a key component of all of our communities. This is something that we provide through the clubhouse, community pool, dog park, fitness center, gardens and more. Residents gain this lifestyle when they purchase their new tiny home at The Hamlet. We offer not only one and two bedroom homes, but they also range from around 399 sq ft to 550 sq ft.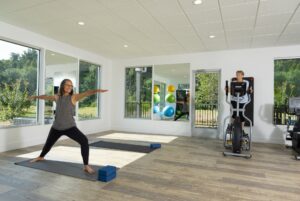 The Zion Cottage – A Favorite Tiny Home For Sale
The original Zion comes in the form of a one bedroom, one bathroom, measuring at 396 square feet. Along the front of the home is a lovely porch, which can be screened in if you so choose. This is the perfect spot for morning coffee and a book as you breathe in the mountain air. Entering into the home, you'll find a living space with tandem windows. This would be a great space to enjoy a cozy environment while watching movies. After, you enter into the kitchen. It is well equipped with bar seating, a nice amount of counter space, a large sink and ample cabinetry.


A Versatile Tiny Home
The two bedroom Zion adds on an extra bedroom, and with that comes the opportunity to add on a side porch, optimizing your outdoor living. This turns your front porch into a full deck, that wraps around one side of the home. When the additional porch is added on, you'll have French doors in your primary bedroom that lead out to the deck. This is our most spacious deck option at The Hamlet, suited for those who want to spend lots of time outside. Add some patio furniture like a dining set and some comfortable seating, and you will probably find yourself outside majority of the time!


Tiny Home For Sale And Their Unique Features
This cottage allows for a loft in the one or two bedroom layout, so if you need that extra storage space, the loft might be your solution! Stairs lead up to a space above the kitchen, suitable for your belongings to be organized and out of site, or perfect for small twin beds when the grandkids visit!


Unique to the Zion is the half bath option for the two bedroom layout. The half bath is located next to the kitchen and living space, allowing your guests to have an additional restroom outside of your own. A half bath can be a great upgrade for those who entertain a lot!
Find more information on the Zion one and two-bedroom layouts on YouTube!
Zion One Bedroom: https://www.youtube.com/watch?v=GdXAdjTv3kU
Zion Two Bedroom: https://www.youtube.com/watch?v=f0d0y1yi2XY